Real World Learning Happens Here
Three in five school districts partner with EVERFI to strengthen whole-child learning initiatives.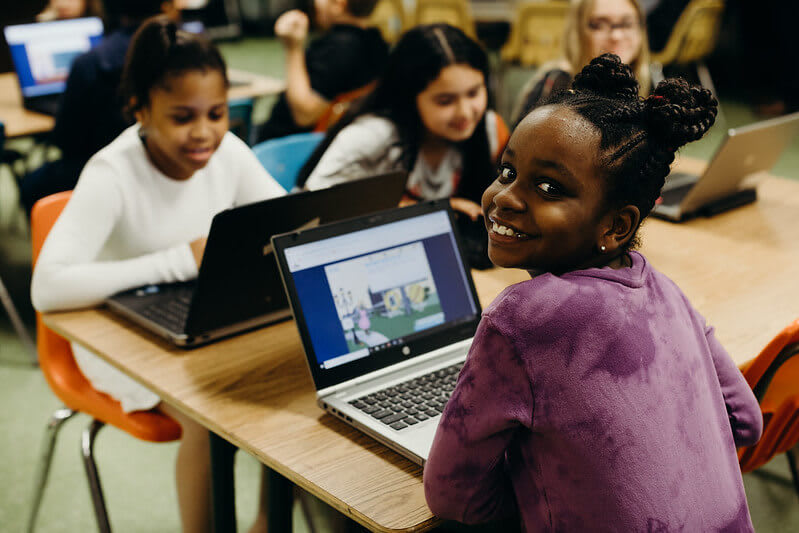 Digital Lessons for Life
EVERFI's free digital platform helps districts prepare students for life's challenges at scale.
Research-Informed Lessons
Tailored Support
Comprehensive Impact Data
All at No-Cost
How it Works
We know districts are tackling big, strategic student goals and doing so on tight budgets.
EVERFI brings together local and national partners so that your educators can access high-quality curriculum and support,
all without paying a thing. This means that EVERFI's unlimited digital licenses, teacher training, and impact data are
fully funded for your schools.

"Boasting an impressive breadth of instructional resources and world-class customer service delivered by experienced educators who keep students and teachers at the center of all they do, EVERFI has been a steadfast and responsive partner of our district for several years now. With materials that bring critical topics to life for K-12 students through engaging curriculum and a fully-funded platform that's available free of charge to school districts, we're grateful for the support EVERFI delivers in empowering our school district to deliver high-quality, standards-aligned instruction to all of the students we serve."
- Mary Margaret Martin, Secondary Social Studies Specialist, Charlotte Mecklenburg Schools
The Customized Support Your District Needs
We're powered by 80+ former educators whose sole focus is training and supporting teachers so your district gets the most out of EVERFI resources, every step of the way.
Onboarding & Implementation
Single Sign-on & Rostering
Preparing for Life Beyond High School with PWCPS
Prince William County Public Schools doesn't just talk the talk when it comes to ensuring students are prepared for their financial futures. Since 2011, they've taken action in partnership with EVERFI. Hear more from the educators.
Hartford Students Make Healthy, Informed Decisions
Connecticut's largest school district is proactively tackling one of the city's greatest public health challenges through proactive drug and alcohol misuse education. Students who participated in the Prescription Drug Safety Program in 2018-2019 saw a 33% increase in knowledge gains, 5% higher than the CT state average. See how Hartford Public Schools found success.
Glendale Unified School District Prioritizes Financial Education
Just north of Downtown Los Angeles, GUSD is committed to ensuring students are prepared for their futures in every single way – and that includes money matters. In its first year implementing EVERFI's financial education resources, nearly 6,000 students saw gains in topics including budgeting, credit, and financing higher education. Hear educators' personal connections.
Join thousands of districts using EVERFI, including all of the largest 100 districts nationwide.
Let's Connect
Bring EVERFI's Free Real World Skills Curriculum to Your District